A flexible Managed services model leads to improve efficiency and significant cost savings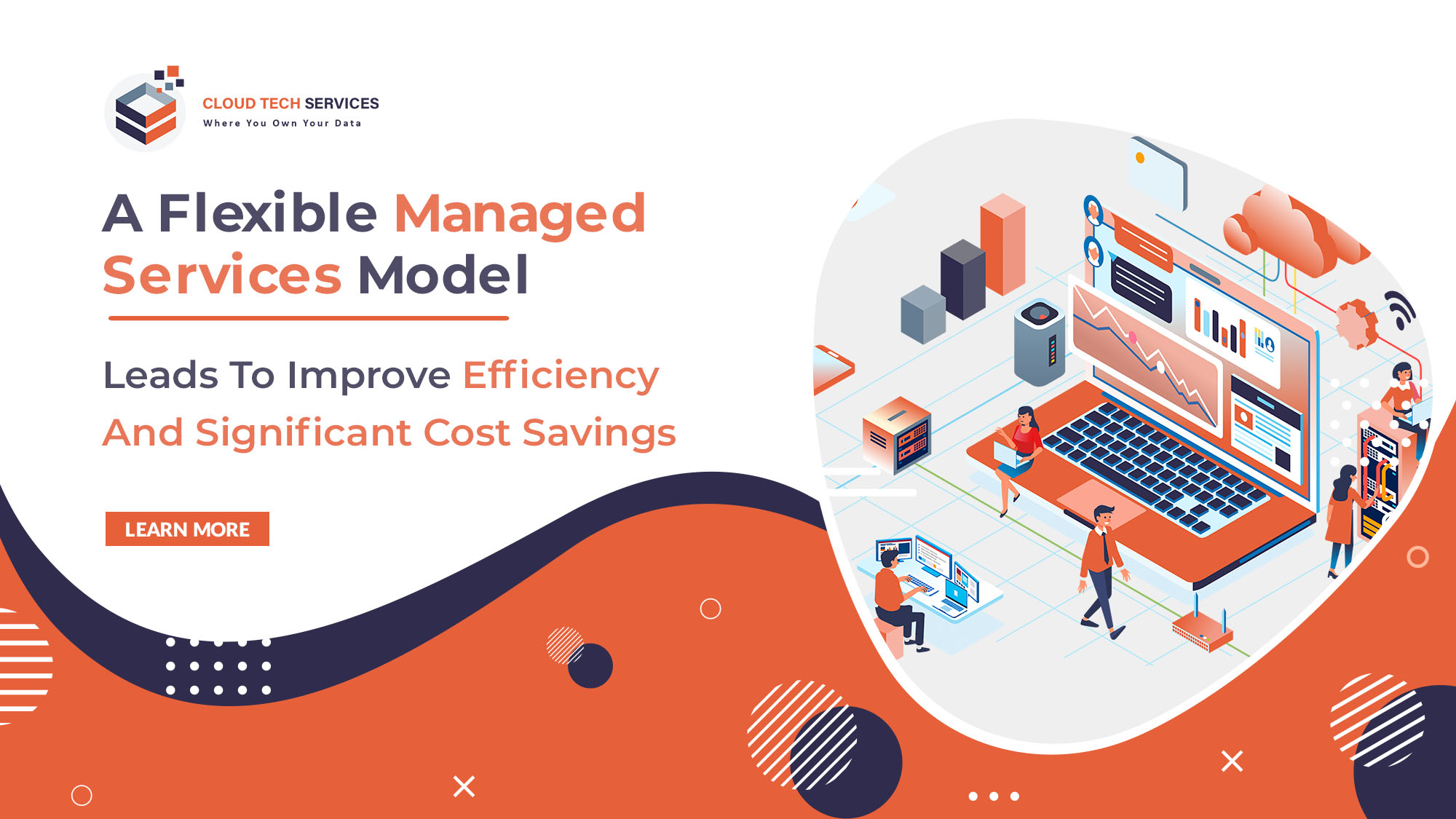 IT departments are increasingly being asked to use digital technology to support and drive business processes for the managed service organization. This demands rapid innovation at the requisite pace to fulfill the demands of their consumers and increasingly digital workforces.
As a result, many organizations rely on third-party partners to provide the skills, experience, and knowledge necessary to produce value via deeper integration of digital technologies into their business applications, customer-facing services, business processes, and IT operations.
An optimal managed services environment is capable of utilizing the appropriate technological tools to automate essential processes and operations in a predictable manner, ensuring employees are more efficient and productive while offering insight into services and managing to pre-define SLAs.
"According to IDC (International Data Corporation) research, the biggest challenge that businesses face in executing their corporate strategy is focusing the right people and resources on strategic initiatives. Essentially, firms are looking to ensure that their talent is focused on core areas of their business while optimizing productivity."
Let's talk about the basics first.
How do managed services work?
The process of giving a third party control over computers, networks, and software is known as "managed services" to increase efficiency and optimize operations. In order to provide the company with the same or higher levels of service at a reduced total cost of ownership, managed services are outcome-based and frequently include a fixed fee for a defined set of services and deliverables. Typically, company strategy determines whether to switch to managed services.
Managed services should not be confused with mega-outsourcing agreements that give a third-party company full ownership and control over a set of departments. The emergence of managed services alternatives may even be considered as a threat to mega-outsourcers since managed services provide adaptable and affordable ways to maintain and secure business networks, systems, and applications while putting more control in the hands of the firm.
A Managed Service Provider (MSP) offers services including network, application, infrastructure, and security through continuing, routine maintenance and active management on the premises of clients, in the data center of their MSP (hosting), or in a third-party data center. MSPs may provide their own native services in addition to those of other suppliers (for example, a security MSP providing sys admin on top of a third-party cloud IaaS).
An MSP can handle myriad operational tasks that, though critical to the success of a business, are non-customer facing. Many organizations make the strategic decision to outsource operational processes due to the efficiencies and expertise such a program brings.
Because of its complex nature, one of the most popular operational tasks to outsource is the management of a company's contingent labor procurement process. Doing so allows a business to take advantage of an MSP's capabilities and experience while avoiding the direct cost of managing the program themselves.
What Services Can CTS Managed Services Provider Provide for You?
Some of the responsibilities that CTS managed service organization carries out for its managed services clients include the following:
Performance and capacity monitoring and reporting
Configuration backups
Break/fix support and patching
Changes
Proactive patching and firmware updates
Upgrades
Capacity planning
Backup management
Underlying database management
Incident management

Problem management
Here goes the benefits of a CTS Managed Service Provider for a Cloud Environment
You can easily scale your app. You may instantly add or remove resources as needed to response to changes in demand with managed services cloud. Because you only pay for what you use, this can help you save money on infrastructure expenditures. Another advantage is that you may use cutting-edge technologies. Cloud-managed service providers are regularly updated with new features and security fixes.
This allows you to maintain your app up to date and safe without investing in your own infrastructure. Working with cloud Managed Service Company allows you to concentrate on your main business. You may free up your time to focus on other aspects of your business by outsourcing app administration to a team of specialists. This can be beneficial to you.
Potential savings: Instead of purchasing, maintaining, and upgrading pricey infrastructures, businesses may obtain scalable services at a reasonable monthly subscription. Due to the lack of system maintenance required by their internal IT administrators, they might also see considerable labor cost reductions.
Adaptability: CTS's cloud services' scalability enables businesses to accelerate the time to market for new IT installations, in some cases cutting that time in half.
Expert knowledge: CTS's highly qualified, experienced, and competent IT engineers offer key skills that certain firms may not have the means to deliver directly.

Protection: CTS security specialists respond to new threats and assaults, assisting in both the prevention of breaches and the mitigation of the effects of successful assaults.
Managed IT's financial advantages
Managed IT assists businesses in many ways to make sure that the finest people and resources are used, which has a positive impact on the bottom line. Increasing customer happiness, investing in new resources, making the most use of already available resources, and enhancing an organization's agility are further frequent aims that Managed IT may help. Here are a few ways managed IT helps businesses make money:
You look to technology as business owners and IT directors to increase efficiency and improve how you do business. There is an issue when your technology cannot accomplish it. You lose money every time one of your users is unable to work. According to IDC research shows that for every 100 users, unscheduled downtime costs businesses $58,118. Server outages cost the typical employee 12.4 hours per year, and network outages cost them 6.2 hours per year. They were able to cut server and network downtime by more than 85% by deploying Managed IT Services.
Monthly Costs That Are Consistent
No matter how much help you require each month, Managed IT charges the same monthly fee. As a result, you'll be able to invest more freely in other aspects of your organization because you'll know exactly what to budget for and what service you'll get. And keeping track of your expenses is now easier than ever.
When compared to hiring specialist workers, managed services providers can provide organizations greater competence for less money. A managed services provider further provides facilities, administration, specialist toolkits, and operational automation.
Scalability and flexibility
For companies of all sizes, cloud computing has become the new standard. It is the perfect choice for businesses who wish to expand and develop rapidly and simply due to its flexibility and scalability.
Businesses may expand using cloud computing without worrying about expanding their infrastructure by adding new customers and apps. Additionally, they have the ability to scale down fast and effectively if necessary. Because of this, organizations that wish to be able to react quickly to market developments should consider using cloud computing.
Managed Services from CTS
Managed services are the glue that binds together diverse corporate settings. They allow businesses to function at fast speeds while lowering operating costs. Not to mention the freedom they provide to relocate workloads wherever they are needed.
Business leaders recognize their role in resolving the problem of performance and productivity. For this reason, organizations seek CTS-managed services. With carefully crafted creative solutions, we have made an impact across several domains and use cases.