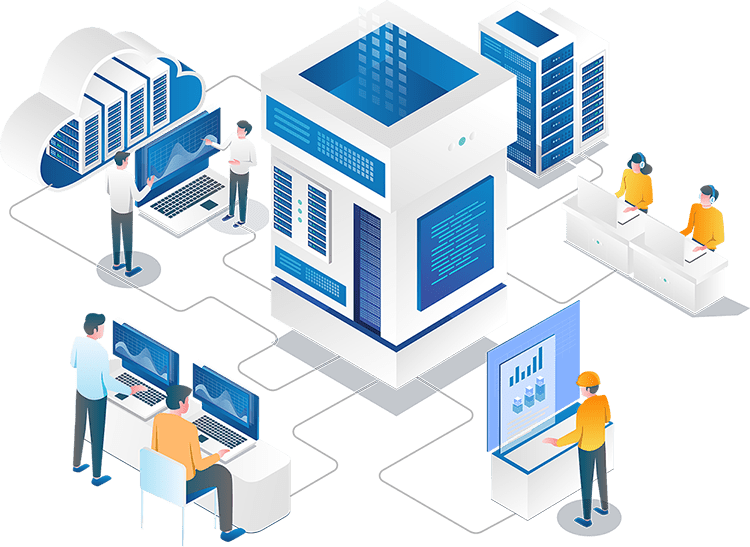 What do you know about it?
IT infrastructure administration – Level 4
Many services are alluded to as technical support. Cloud Tech Services employ these services to give assistance to users. They offer technical support for items such as computers, mobile, and software. Customers commonly inquire about the various methods to IT Support and how they might be utilized to structure help desks and service desks as an IT service management provider.
Let's learn the basics first.
Infrastructure for typical IT support
Infrastructure is the foundation upon which an organization or its systems are built. A data center is made up of both physical and computer-generated resources. These data centers help with data processing and analysis. IT infrastructure can be spread or integrated with data centers. It might be dispersed over many data centers. These are arranged either by the organization or by a third party.
The power and structural needs necessary to support the hardware are included in the data center configuration. Storage, servers, and networking devices are common components of data center gear. Routers and switches, cabling, and network equipment such as network firewalls are some examples.
IT infra security must be carefully considered in a data center. Physical security with regulated access to the data center is part of IT security. It guarantees that only authorized individuals have access to the data center hardware space, lowering the risk of data theft or damage.
Technical assistance, often known as IT support, help desk, or service desk, is a service that organizations offer to users of IT products. Because the complexity of the help varies, it is divided into several service levels or tiers. Companies offer technical assistance for a wide variety of devices and software, such as televisions, phones, and motorized equipment. Depending on the size of the company, the CTS technical support staff may consist of a few employees or a full division.
Who needs support at Level 3?
SMEs are required for this level of assistance (Subject Matter Experts). Level 3 help is provided by professionals, who may include architects, engineers, and creators. These support specialists have access to the most up-to-date corporate and product information. They can offer answers to a wide range of technological issues.
When a user query is escalated to Level 3 support, technicians examine code and designs in a lab setting to determine the root cause of the problem. The technicians may raise the issue with the corporation in order to alter a product and then transmit the remedies down to Tier 1 and 2 supports.
When developing Level 3 support for your business, search for product specialists or people with IT knowledge in the development of a similar product.
Do level 4 exist in IT Infrastructure Administration?
A 'Big Yes' Tier 4 support is available, although it is located outside of the company. It includes contractual support for other manufacturer's goods. This might include printer, computer, software, machine maintenance, and other outsourced hardware and software support. Some queries may be forwarded to Level 4 support via Level 3 or Level 2 support.
How do Level 4 support IT infrastructure?
Provides technical competence to ensure that operational processes are followed correctly.
Contributes to infrastructure maintenance and upgrade planning and implementation.
Load and performance statistics are determined using infrastructure management technologies.
Implements agreed-upon infrastructure improvements and periodic maintenance.
Tools are configured and/or scripts are written to automate the provisioning, testing, and deployment of new and altered infrastructure.
Identifies and participates to the resolution of operational difficulties, ensuring that they are managed in compliance with agreed-upon standards and procedures.

Reports and improvement ideas are sent to professionals, users, and management.
The effectiveness of the CTS organizational structure is dependent on:
Technicians' understanding of their degree of responsibility
Customer response time commitments
When to escalate a problem to the appropriate level
A three-tiered technical support system is orbited by CTS support framework. Level one also serves as a service desk. It receives preliminary calls from users and produces tickets. They can also do basic first-aid repairs.
If a ticket is not addressed at the first level, it advances to level two. They have expertise and experience with a variety of operating systems and hardware. They can offer technical advice or give remote help to L1. There are time limits that can aid. If the L2 is unable to fix the issue within the time frame specified, it will be escalated to the third level.
Level 3 is where the ticket is ultimately resolved. L3's technicians will have both experience and knowledge. L3 also has complete access to user hardware and the server side. Server support starts at level three. A L3 technician is responsible for doing basic initial tests and repairs on servers and other infrastructure.
L4 is also available and will be EXTREMELY familiar with all apps and processes. They are sometimes referred to as application or development support.
Our CTS IT infrastructure administration is the coordination of IT resources, systems, platforms, people, and environments.
IT infrastructure administration – Level 4
Windows - Level 4 Administration
Linux - Level 4 Administration
Storage - Level 4 Administration
Network - Level 4 Administration
VMWARE – Level 4 Administration
Backup – Level 4 Administration
Windows - Level 4 Administration
CTS Windows administrators serve the following platforms in terms of technical administration and configuration: Windows Server 2012/2016, Active Directory / Group Policy, Citrix, VMware vSphere, and other related technologies.
CTS service offerings include:
By using troubleshooting and simulation, we can solve the majority of complicated configuration issues.
We are expertise in technical problem isolation and resolution expertise
For ALL issues, modifications, and difficulties, strict adherence to the use of the ticketing system is required.
When required, CTS provides Level 4 support to ensure Service Level Agreements are met.
Do frequent live customer support visits to maintain technical relationships, review operational reports, analyze overall IT infrastructure health, take deeper dives into unresolved technical issues, conduct trend analysis on the top 5 failure mechanisms, and identify and rectify underlying causes.
We hold frequent technical meetings with clients to discuss any emerging patterns or systemic difficulties.
We create a troubleshooting / resolution action plan. Analyze troubleshooting technique output and remotely analyze problems. Before deploying a potential remedy, we test it in the lab.
CTS maintain the highest level of industry certification and understanding of process. We have the capability to design, implement, maintain, and improve our present managed service products and infrastructure.
CTS acts as a sales overlay by giving sales with guidance and support for opportunities.
Linux - Level 4 Administration
Storage - Level 4 Administration
Network - Level 4 Administration
VMWARE – Level 4 Administration
Backup – Level 4 Administration
How can CTS support your business?
For IT firms, we provide limitless help desk options. With us, you can concentrate on creating and enhancing your products while we take care of any requests for technical assistance. You don't have to worry about efficiency and data storage thanks to our automation and security measures. Get in touch with us right away to learn more about our infrastructure services for IT.
Frequently Asked Questions
IT Infrastructure Monitoring Services – FAQs