NOC Monitoring Overview, Best Practices and Tools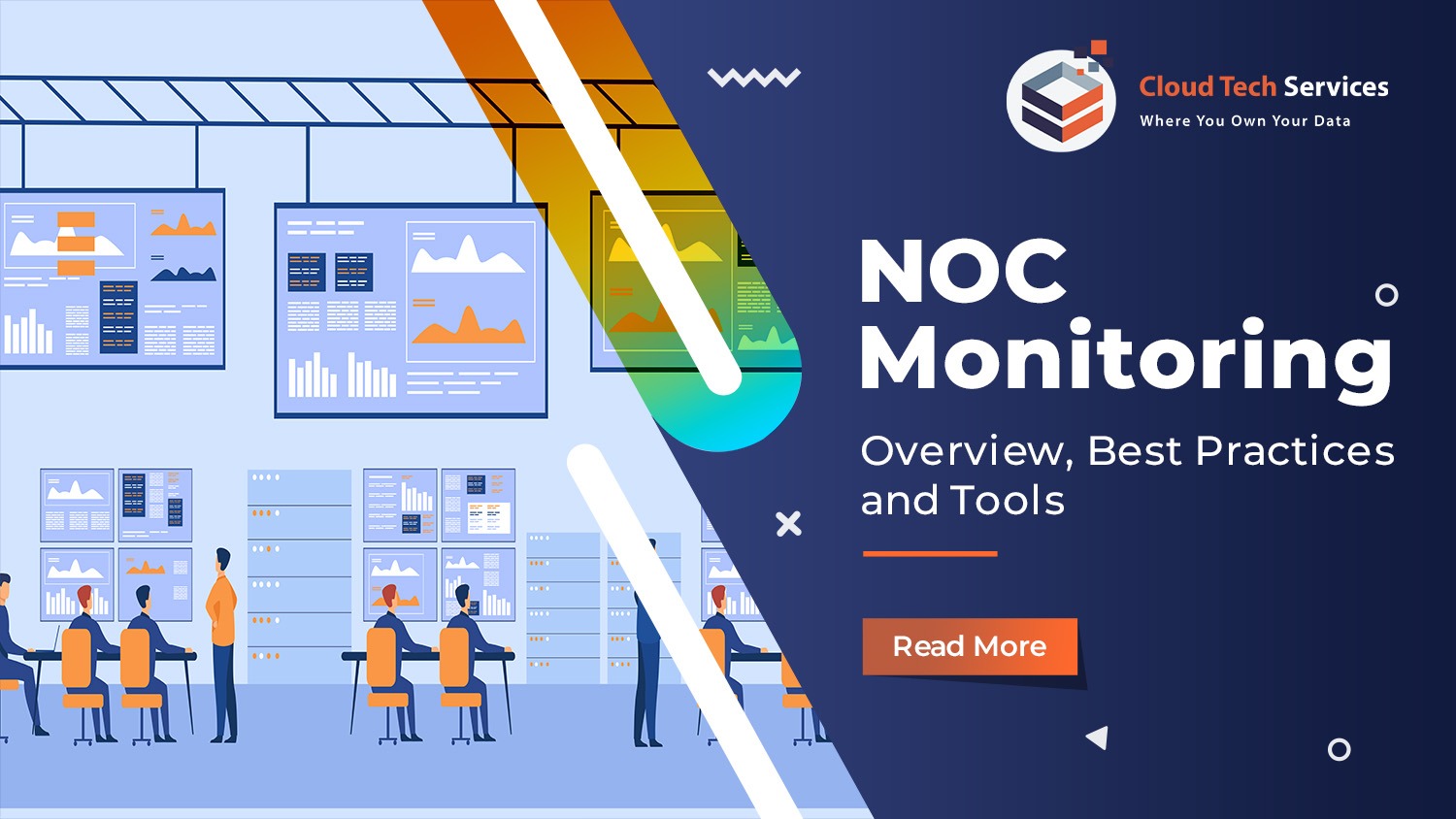 An IT administrator can manage, monitor, and maintain a communications network from a network operations center (NOC). Most large businesses with vast networks and commercial network service providers have a NOC. It typically has tools that visualize the network or networks being watched. 
The Network Operations Center (NOC) is the first line of defense for a business's network security. Network activity reports and dashboards are monitored and managed by NOC staff. Additionally, they could handle voice- or ticket-based customer service desk systems. The organization's operations and business continuity depend heavily on the NOC's ability to guarantee unbroken network availability.  
NOC in the data center context 
Maintaining data center availability is one of the objectives of a Network Operations Center (NOC). The number of rooms and employees depend typically on the size and business criticality of the data center. While small data centers rely on automated monitoring software, large data centers have a NOC that is operational 24/7 throughout the year.  
The NOC and data centers are inextricably linked in larger organizations. The primary responsibility of the NOC is to observe the network without intervening. On the other hand, a data center participates more actively in the network, and its primary function is data sharing.  
Outsourcing IT companies for NOC
A third party may perform Network Operations Center (NOC) functions for some businesses. Third-party NOCs are independent businesses, frequently managed service providers, that offer specialized IT infrastructure and network monitoring, management, and supervision services. Frequently, businesses construct their NOC on-site within their data centers.  
IT companies working as outsourced IT support reply on utilization metrics for best of NOC practices. Utilization metric measures performance, efforts, and resources used in totality to give an overview of a particular performance.  
KPIs for utilization metrics of NOC 
95th percentile usage
The 95th percentile is a method of measuring bandwidth usage that allows a customer to exceed their committed base rate.  
Packet loss/drop
When one or more transmitted data packets fail to arrive at their destination, this is referred to as packet loss.  
Latency
The latency is the time it takes for a data packet to travel from its origin to its destination.  
Availability of the application 
Application availability is a metric used to assess whether an application is properly functioning and usable to meet an individual's or business's needs.  
Access points 
An access point connects multiple wireless devices in a single wireless network.  
Time impact analysis by conversation size 
The total number of conversations support staff have with customers about issues/tickets raised by customers to the support team.  
Ticket volume 
Tickets in your support queue over time.  
Mean time to repair
The time it takes to repair a system or a set of products in the meantime.  
Labor content 
Assessing the labor content, i.e., efforts for each edit of a ticket, gives the NOC an exact measurement of the work allocated to the lifespan of a ticket. 
Revisions on ticket lifecycle 
This measures how many revisions a worker can do in an hour in the ticket lifecycle.  
What advantages do NOCs have?
Network operations centers and practices, whether in-house or outsourced, can benefit IT practices by –  
Business-critical network software installation, troubleshooting, and patching.  
Antivirus protection to stop viruses from entering and spreading across the network in collaboration with the organization's security team.  
Network health reports aiding in optimization and problem resolution.  
Monitoring and managing firewalls to ensure ongoing network and business security and spotting security issues, such as threats and attacks, to mitigate and minimize damage. 
How is NOC designed? 
The number of NOC staff and physical space depends on the size of the data center and the organization. Video displays are arranged in a grid that covers entire walls and shows live issues, alarms, and the network's overall performance in real time. 
Alerts will initially be displayed on the video wall, clearly indicating to personnel where a problem is occurring, and which device or line is impacted. The room's workstations, where professionals are tasked with keeping an eye on a particular piece of technology or pain point, are connected to the wall through separate cables. 
Since each workstation has numerous monitors, technicians can examine information quickly and respond more effectively. In addition, the technicians can talk with one another and share information in real-time via the video wall displays, thanks to the connection of each station to a kind of PA system. 
When an issue is found, a NOC technician will write a ticket and classify it according to the alert type, severity, and other factors. Then, it escalates to the next level until the issue is fixed.  
NOC vs. SOC 
The SOC is concerned with the protection of customer data and intellectual property. NOCs typically deal with natural network events, whereas SOCs almost always respond to external threats. 
A NOC technician must understand network and application monitoring and management, whereas a SOC analyst will focus solely on security. 
A third of companies report little to no contact between the NOC and SOC and only collaborate during emergencies. Integrating the two begins with establishing operating procedures, automating specific actions, and implementing tools for collecting and sharing monitoring data. 
The 3 essentials of network monitoring practices 
Purpose – Tracking specific incidences 
Solution – Ticketing system 
Using a ticketing system, all concerns may be tracked according to their urgency, severity, and the person handling them. To process and allocate the issue to the appropriate person or department, tickets are produced for issues that arise. 
Purpose – Ease of use 
Solution – One configurable dashboard for all the stakeholders 
All documentation and knowledge easily available to every team member must be contained in a single adjustable knowledge source. It should be a dynamic source of information that is constantly updated with incident lessons that can be applied to prevent similar problems from occurring. 
Purpose – Reducing dependencies on manual efforts 
Solution – Automating periodic monitoring 
Periodically, reports ought to be made. Performance trends will be easier to spot and quicker to pinpoint areas that need work. Critical events during IT Process Automation have a lower MTTR. The system's critical events can be handled after hours by triggering particular workflows. When network and customer concerns are addressed remotely, staff are freed up to perform other things. 
If your company can't afford network downtime and your internal IT team needs support, hiring an outsourced network operation center is wise. The NOC acts as the company's first line of defense, allowing it to monitor network security, spot any assaults, and take action when necessary. In addition, network operations centers are flexible solutions that help businesses boost network uptime, productivity, and more.  
Get in touch with us today to learn how we can help you to get the finest NOC practices for your business needs.