Vulnerability Management - Overview, Process & Tools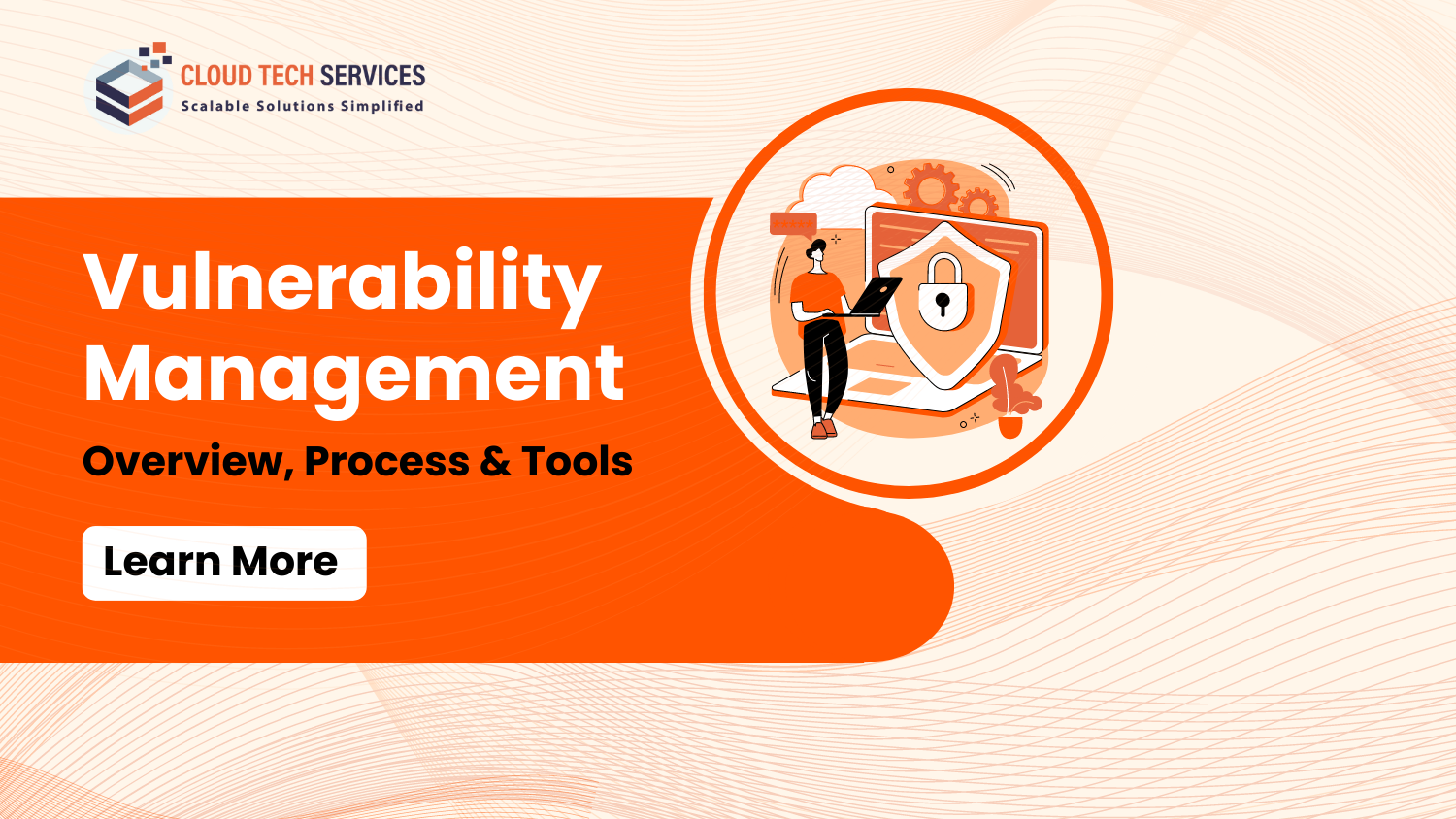 The process of locating, evaluating, and ranking vulnerabilities in a network or system is known as vulnerability management. Any cybersecurity strategy must include it since cybercriminals may use them to access sensitive information without authorization or to sabotage operations.
Identification
Finding vulnerabilities is the first step in vulnerability management. Numerous techniques, like vulnerability scanning, penetration testing, and manual reviews, can accomplish this. Automated programs called vulnerability scanners examine networks and computer systems for known vulnerabilities and then report their findings. A team of security professionals would simulate an attack on the network or system to find and exploit vulnerabilities as part of penetration testing, a more thorough approach to discovering flaws. Manual evaluations entail physically inspecting the system or network for flaws like obsolete software or incorrectly configured settings.
Assessment
Vulnerabilities must be evaluated to determine their severity and possible impact when they have been detected. This can be accomplished by assessing the possibility of a vulnerability being exploited and the possible harm that could ensue. For instance, a vulnerability allowing an attacker to access sensitive data rather than only allowing them to create a denial of service would be seen as more serious.
Responding
Patch management is a crucial aspect of vulnerability control. This entails locating and installing software patches and updates to fix known vulnerabilities. In addition, organizations should have a procedure in place to consistently check for, apply, and test updates and fixes before deploying them.
Planning
Incident response planning is a crucial component of vulnerability management. Having a strategy to handle a security issue, such as a data breach or cyber-attack, is necessary. In addition, procedures for locating and containing the incident, as well as processes for resuming regular operations and carrying out a post-incident review, should all be included in the incident response plan.
Merits of vulnerability management
To guard against potential security breaches, vulnerability management is locating, evaluating, and prioritizing computer system or network vulnerabilities. The following benefits of vulnerability management:
Early vulnerability detection:
Organizations can find possible security concerns before attackers do by routinely screening for vulnerabilities.
Prioritizing vulnerabilities:
Organizations can prioritize vulnerabilities depending on the risk they pose so that the most important vulnerabilities can be fixed first. This is possible using vulnerability management.
Security enhancement:
Organizations can enhance their overall security posture and lessen the possibility of a successful attack by addressing vulnerabilities.
Compliance:
A vulnerability management program is necessary for many regulatory compliance obligations.
Cost-effective:
Organizations can reduce costs by finding and fixing vulnerabilities before they become serious problems.
Improvement in response to vulnerabilities:
Vulnerability management can assist organizations in swiftly identifying and responding to security problems, minimizing the harm a successful attack can do.
Challenges to vulnerability management
Organizations may encounter several difficulties when adopting and maintaining a vulnerability management program since vulnerability management can be a complex and challenging process. Typical difficulties include:
Updating against new vulnerabilities: Keeping track of new vulnerabilities can be challenging because they are frequently discovered. The ability to recognize and evaluate newly identified vulnerabilities is something that organizations must have.
Prioritizing vulnerabilities:
Deciding which ones to fix might be challenging when there are many vulnerabilities to evaluate. For organizations to successfully prioritize vulnerabilities, they must clearly understand the risks attached to each one.
Lack of resources:
Organizations might not have the budget or staff necessary to successfully implement and maintain a vulnerability management program. Vulnerability management demands a significant investment of time and resources.
Lack of visibility:
Recognizing and evaluating vulnerabilities is challenging when many businesses have poor visibility into their networks and systems.
False positives:
Automated vulnerability scanners may generate a lot of false positives, which can squander time and money-intensive resources.
Managing independent contractors:
The third-party providers' systems may be obscured to organizations that rely on them, making it challenging to locate and evaluate vulnerabilities.
Lack of standardization:
It can be challenging to standardize the procedure within an organization, given the variety of tools and technology available for vulnerability management.
Managing legacy systems:
Organizations may have old, unsupported systems, and patching their vulnerabilities may be challenging or impossible.
Managing cloud-based systems:
Cloud-based systems are sometimes used by organizations, and finding and fixing vulnerabilities in them might be more challenging.
Best of vulnerability management practices
The first step to vulnerability management practice is to select the right tools. The following content is a comparison between the general notion of vulnerability management tools and vulnerability management tools performing the expected best of the practices:
Automating the vulnerability scans
Standard practices
Scanning capability: The ability to scan for vulnerabilities regularly, using a variety of methods such as –
Network scanning.
Application scanning.
Vulnerability scanning.
Vs
Best of the practices
Automation:
Many vulnerability management products have features that enable automated scheduling of scans, vulnerability management, and report generation.
Liability:
The tool should have a low probability of false positives and be able to identify vulnerabilities throughout the entire company precisely.
Customization:
The capacity to alter parameters such as the vulnerabilities to check for and the quantity of detail to be included in reports.
Customizing the vulnerability assessment
Standard practices
Vulnerability assessment: The capacity to rank vulnerabilities according to the risk they present after they have been detected.
Vs
Best of the practices
Scalability: The capacity to grow to accommodate the requirements of organizations of various sizes and to manage a high volume of vulnerabilities.
Simple to use and comprehend: The tool's user-friendly interface should make it simple for security experts to use and comprehend the findings of vulnerability scans.
Managing the vulnerability assessment
Standard practices
Risk management: The capacity to assist businesses in managing vulnerabilities by identifying the most important ones and providing instructions on fixing them.
Vs
Best of the practices
Compliance: Many solutions can map vulnerabilities to various regulatory compliance standards. They also provide reporting capabilities for compliance.
Reporting the vulnerability management
Standard practices
Reporting and tracking: The capacity to produce thorough reports on vulnerabilities and monitor their progression to ensure they are quickly remedied.
Vs
Best of the practices
Adaptation to additional tools: the capacity to connect with other security solutions to help enterprises manage vulnerabilities more successfully, such as firewalls, intrusion detection systems, and incident response systems.
Cloud-based or On-Premise: The solution should include the option to be either cloud-based or on-premises so that businesses can select the option that best meets their requirements and infrastructure.
What options do you have in this vulnerability management tools market?
The global vulnerability management market size was valued at $3.7 billion in 2020 and is expected to grow at a CAGR of 10.2% from 2021 to 2028.
Some of the most popular vulnerability management tools include –
Microsoft Azure Security Center
Qualys VM
Rapid7 Nexpose
Tenable.io
GFI LanGuard
Comparisons on cost
The cost of these vulnerability management systems depends on the particular features and usage level.
Licensed models
Rapid7 Nexpose and GFI LanGuard provide both perpetual licensing and subscription options.
Pricing models
Qualys VM and Tenable.io provide subscription-based pricing models.
Tailor-made solution
The cost of the Microsoft Azure Security Center depends on how much consumption and how much resource is used.
Differentiability based on a feature
These vulnerability management tools all provide a variety of capabilities for the management and assessment of the vulnerabilities in your IT systems
Monitoring and threat analysis
Qualys VM and Tenable.io offer continuous monitoring and threat analysis capabilities,
Scanning and reporting
Whereas vulnerability scanning and reporting is the main focus of Rapid7 Nexpose and GFI LanGuard.
Comprehensive solution as in the whole management
A complete security solution, including vulnerability management, is provided by Microsoft Azure Security Center for Azure cloud resources.
Availability of the integration options
All of these tools offer integrations with various platforms and tools.
Qualys VM and Tenable.io offer extensive integration options, while Rapid7 Nexpose and GFI LanGuard focus on integrations with popular security tools. Microsoft Azure Security Center is tightly integrated with Azure and Microsoft security tools and tries to create a FOMO for the Microsoft ecosystem if one is deploying the same Microsoft Azure Security Center.
The choice of your vulnerability management tools depends solely on the nature of your IT infrastructure and its size to be looked at for vulnerabilities.
Vulnerability management is a process that must be implemented by ongoing vulnerability scanning, penetration testing, and observation of any odd network behavior that might indicate an attempted exploit.
Therefore, it is not an action to be taken periodically. Managing vulnerabilities is a continual activity that needs constant attention and resources. Organizations should designate a team or individual to manage vulnerabilities and ensure they have the resources and tools needed to do it. An organization should also ensure that its staff is trained to spot vulnerabilities, report them, and follow incident response protocols.
Any cybersecurity strategy must include vulnerability management. In addition to deploying updates and patches, developing an incident response, and conducting routine monitoring and reporting, it entails locating, evaluating, and prioritizing vulnerabilities. Organizations should designate a team or individual to manage vulnerabilities and ensure they have the resources and tools needed to do so. They should also teach their staff to support the process. Each of the aforementioned suggestions requires a suitable productized service. However, there are many vulnerability management technologies on the market. They also need the appropriate work staff to align their operations with the IT infrastructure requirements of one organization.
Ready to strengthen your security? Get in touch with us now and let our experts help you effectively manage vulnerabilities in your organization.