Empower IT Transformation with Hybrid Managed Services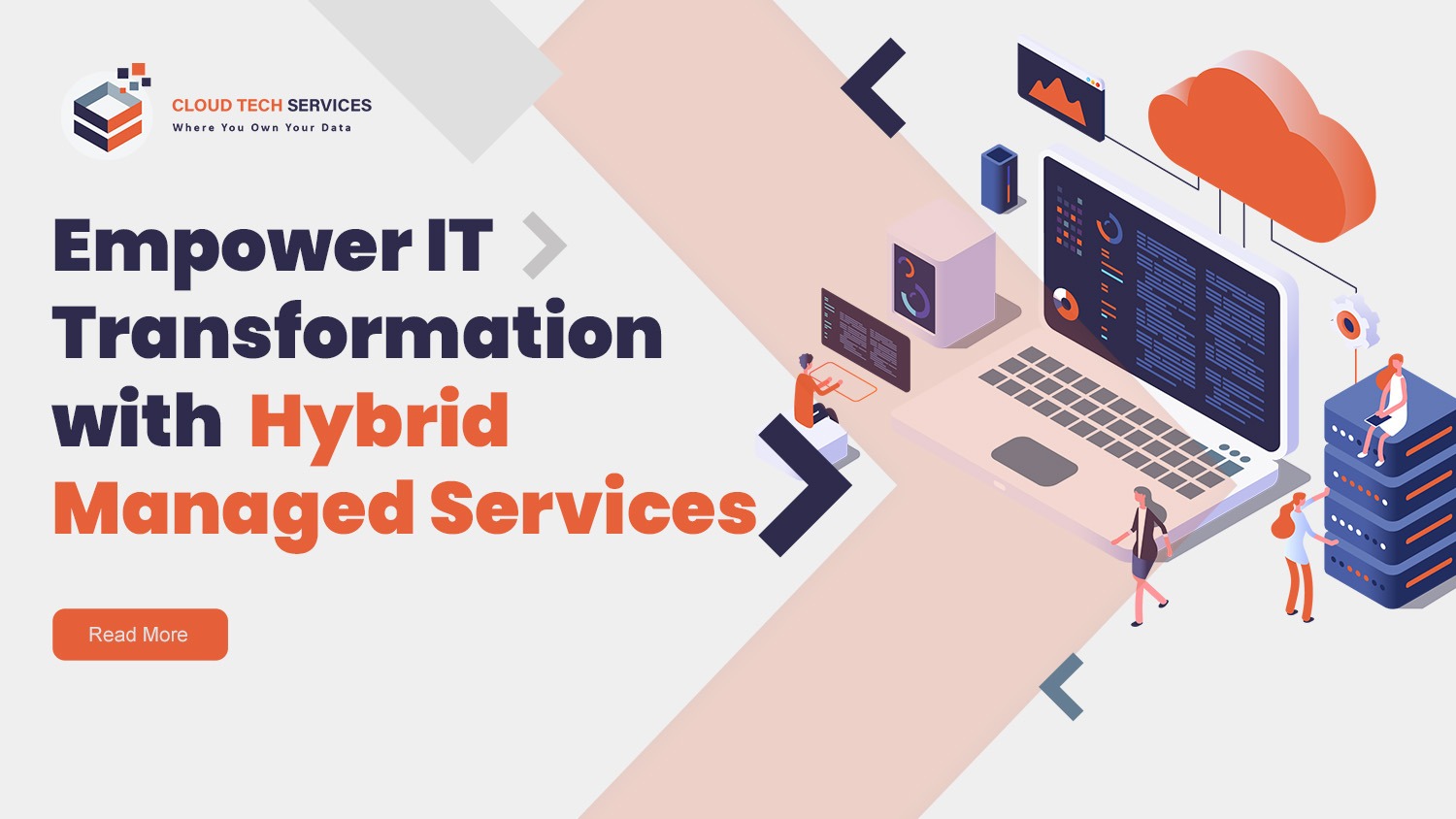 Businesses who watch the market and are cognizant of its upcoming problems and recognize the necessity of their digital transformation place a special emphasis on IT managed services. These businesses are looking for ways to effectively manage ever-more complex infrastructure, including remote and hybrid deployment solutions.
They frequently need further outside study of the current IT environment, consulting on development works, and advice on how to implement them effectively. Above all, they need to have access to experts that have deep subject expertise and are quick to pick up on how their organizations run.
CTS as a managed service provider provide business digital transformation that gives end-to-end connection and potent data insights to achieve sustainability and operational efficiency by utilizing robust IT services, Hybrid IT Solutions, and a wide range of developing technologies including High-Performance Computing.
We are in the best position to assist you in avoiding pitfalls, maximizing costs, ensuring cyber resilience, and maximizing the returns from your technology investment because we have a thorough understanding of the complexity involved in deploying hybrid environments and implementing the newest technologies.
"Organizations need to move from task-specific tools toward a hybrid integration platform (HIP)."
Why is Hybrid Cloud Approaches Preferable?
Businesses have been quite clear about their desire to use public cloud platforms more frequently, especially infrastructure as a service. However, a long-term plan to use on-premises resources has prevented the full transfer to cloud platforms.
In order to facilitate workload mobility and the smooth delivery of services across environments, the majority of managed service organization suggests that their IT strategy will incorporate a unified hybrid approach that combines on-premises cloud resources with public cloud infrastructure.
Many businesses view a hybrid strategy as a way to reconcile managed service cloud application development with legacy systems that require significant process improvement before they can benefit from the strategic functions of cloud platforms both on-premises & off-premises, regardless of whether organizations view a hybrid cloud as a permanent IT solution or an interim step toward an all-encompassing engagement with public cloud platforms. These businesses can move workloads to the cloud or, in some cases, from the public cloud to on-premises settings using hybrid architectures in order to save costs or boost performance.
A good hybrid cloud strategy helps to support the business transformation goal. What about yours?
CTS research shows that there is a clear difference between behaviors and outcomes for firms as they sought to accelerate the benefits of hybrid IT, even though Hybrid Cloud Leaders are benefiting more from their hybrid environment.
Hybrid Cloud Leaders take a comprehensive approach to their hybrid cloud strategy, taking into account business alignment, proactively, talent, and technology all at once.
75% of leaders say their hybrid cloud environment makes it easier to adopt emerging technology, and 49% say their hybrid cloud strategy has increased the speed at which they provide new services and innovations during the past year.
Keep challenging
Budget restrictions, a dwindling pool of technical expertise, and more complicated cloud environments focus IT resources on day-to-day operations and reactive problem management rather than strategic efforts to help the business grow and evolve. As a result, IT transformation may be slowed, making it difficult to swiftly embrace new technologies and attract and keep clients.
Furthermore, a shortage of experienced employees makes it difficult to operate new technologies and manage the intricacies inherent in a hybrid cloud system.
The answer
CTS Managed Services can assist you in optimizing the performance and effectiveness of your hybrid cloud infrastructure.
With our professionals managing the infrastructure using our tried-and-true approach and best practices, IT is free to focus on proactively facilitating the IT transformation necessary to propel the company ahead.
Our specialists collaborate with you to decide how to effectively apply technologies throughout the IT ecosystem to accelerate innovation and provide you a competitive advantage by allowing you to launch new apps and services faster than your rivals.
Simplified hybrid cloud management
CTS Managed Services enable you to choose how you consume technology and services knowledge. Four service choices complement one another to provide the complete spectrum of IT demands, from tactical assistance to full operational responsibility. Among these service possibilities are:
Provides systematic review services 24 hours a day, seven days a week, with pre-defined monitoring, alerting, and basic reporting.
Complete monitoring; incident management, service request fulfillment, upgrade and patch management, and administrative reporting are all available.
Supports your IT operations by applying best practices for storage management tasks including incident, issue, and change management in order to meet agreed-upon SLOs.
Provides comprehensive standardized and repeatable storage management in order to meet agreed-upon SLAs.
Business organizations use the hybrid cloud solutions to:
Workloads should be coordinated across public and private clouds as conditions change.
Process orchestration across multiple applications
Increase your control and oversight over IT spending and resources.
Many prominent corporations are already utilizing a hybrid cloud approach to suit shifting market demands. Indeed, according to a recent research done by an external consulting firm, organizations that transition their technology and operational models to completely hybrid cloud platforms are more likely to achieve 2.5x the overall economic value of a public-only cloud approach.
Manage complexity to improve cloud performance.
The backbone of modern businesses is an always-on IT infrastructure. It provides the computing foundation, network, digital workplace, and data platform features that enable users to operate business-critical applications.
Infrastructure is becoming code, with functions migrating away from physical asset management and toward coordinating and optimizing services across different settings.
Notwithstanding this, many businesses have not changed their strategy for managing today's complex hybrid cloud and infrastructure estate. Even if a company isn't ready to shift totally to the cloud yet, it will need to function increasingly cloud-like in order to compete.
We can help you stabilize, optimize, and manage your IT infrastructure while also offering the agility and flexibility for future development and transformation—at your speed.
Here's to you!
Would you want to have a fireside chat with us? Then, don't hesitate any longer; get in touch with our professionals right now to learn more about the finest options for your business.