Service Desk vs. Help Desk – Differences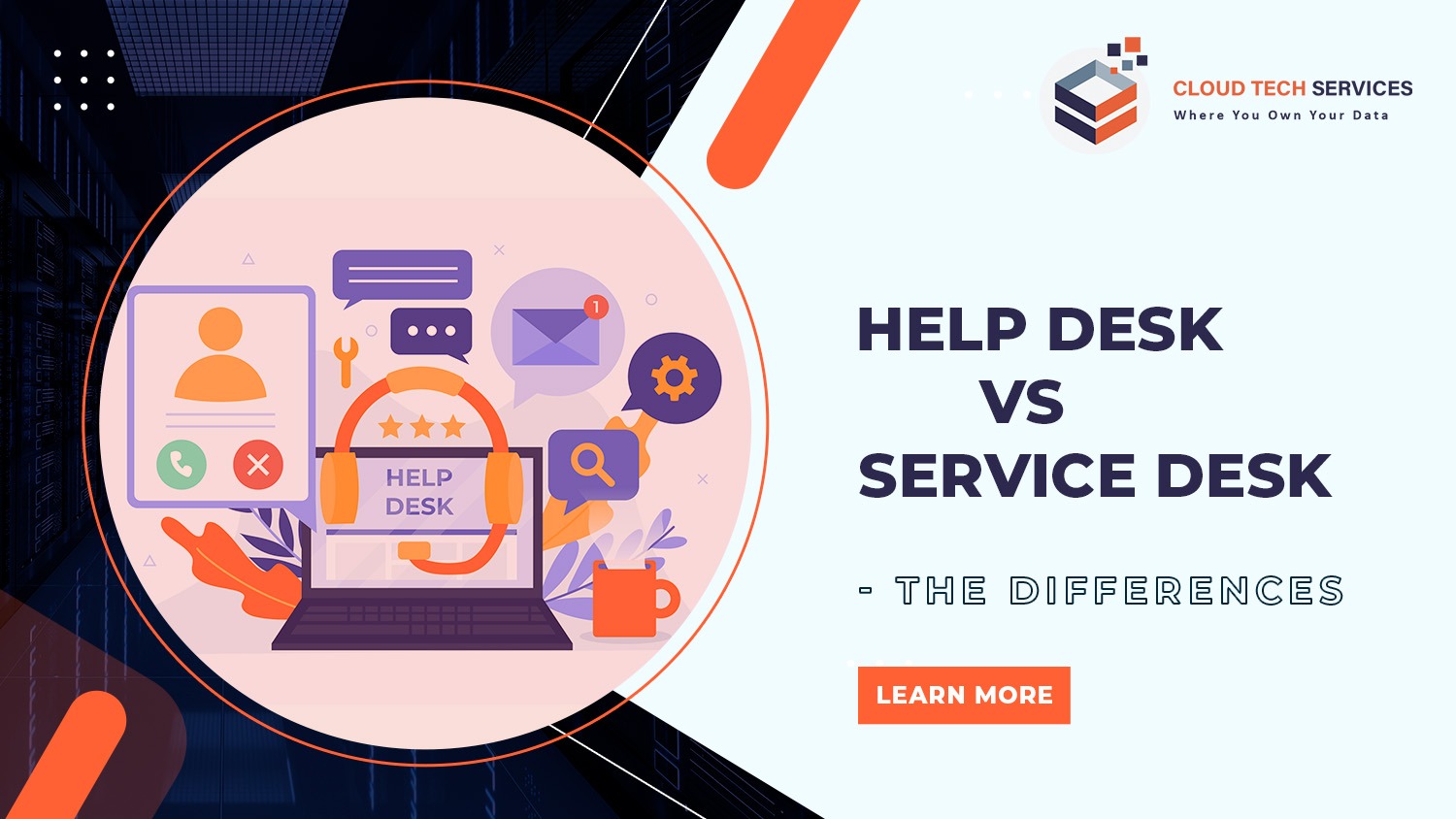 Most individuals have heard of service and help desk services, but few are able to recognize their differences and the best help desk assistance choice.
Understanding the helpdesk vs. service desk difference will enable you to choose the IT support and service management option that is most appropriate for your needs.
Both help desk and service desk services have very different distinctions, and each has certain advantages for corporate operations.
Which has the upper hand in this fight between the help desk and the service desk?
A service desk takes a more comprehensive approach and assists your company in handling both service requests and issues, whereas a help desk focuses only on addressing incidents.
In actuality, both initiatives share the same ultimate objective—improving the "end-user support experience"—despite their distinctions.
In this blog, we will explore the definitions of help desk , service desk, and managed IT services understand the key attributes they bring to the table, and finally discuss the major differences between them.
Sketch the help desk.
The primary objective of the IT help desk service is to assist in promptly resolving end users' urgent demands and technical difficulties and events. This perspective tends to be more tactical.
Although the helpdesk as a service is reactive in nature, efficiency and promptness are anticipated.
To enhance the organization's total customer services, the IT service help desk can operate independently or as a component of a wider service desk operation.
Among the help desk's essential characteristics are:
Serving as an IT support single point of contact (SPOC)
For all inbound occurrences, employing a tracking solution
Automating email alerts, ticket routing, and tracking
Providing rudimentary management of incidents and service requests
Connecting in a limited way with other IT service management (ITSM) procedures like knowledge management and configuration management with the help of help desk IT
Some areas/applications serviced by outside of the help desk specialization groups
Providing support at Levels 1 and 2 and passing incident responsibility where necessary

Providing consumers with simple self-service alternatives
A service desk is what?
The IT service desk is a more comprehensive, cross-organizational, and strategic function. Unlike a help desk, which is entirely focused on addressing user demands, a service desk considers the larger company needs and context. The single point of contact between the service provider and the users is how that defines the service desk or service operation.
A typical service desk facilitates interactions with users, resolves problems and service requests. Although the service desk often includes a help desk, its main objective is to be proactive in enhancing IT and business processes throughout the whole firm.
The top service desks are always searching for ways to improve the efficiency of all IT activities, including the help desk.
The following are some essential qualities of the service desk:
Integrating completely with other ITSM procedures
Serving as the SPOC for all IT departments, programs, and business operations
Monitoring the observance of service level agreements (SLAs)
Supplying an integrated service catalog and self-service capabilities for incident and service requests

Connecting to the configuration management database (CMDB) and exchanging information with it
Service Desk vs. Help Desk
A help desk facilitates rapid fixes, but a service desk concentrates on providing end users with a service that focuses on comprehensive customer service. This is the primary distinction between help desk and service desk assistance. An addition to current IT activities is a support desk. Help desk support might be viewed as a subset of all service desk skills.
Service desks facilitate the delivery of IT services throughout the full service-based ecosystem, which is a significant distinction between service desk and help desk systems.
Service desk solutions are currently regarded as modern IT service assistance, although based on individual IT requirements, different businesses will place different values in the help desk vs. service desk argument.
The majority of IT professionals concur that each organization will want different things from its help desk and service desk alternatives.
Understanding specific IT support requirements and implementing a system that is best for organizing and resolving issues is advantageous for businesses.
Managed IT services
Managed IT services are the IT services provided by an organization that is contracted out to an outside provider of managed IT services. The managed service provider assumes full accountability for the organization's overall IT operations, including 24/7 monitoring, on-demand IT assistance, and problem-solving.
The fact that the managed service provider takes on the duty of delivering services to its customers and that proactive strategic IT choices are made and communicated to client's sets managed IT services apart from traditional IT services in a significant way. Therefore, managed IT service providers go beyond being simple on-demand service providers and serve as technical advisors to their clients in the area of IT deployment.
Customers are often charged based on the services they receive from a managed service provider, who typically offers a pay per usage pricing plan. In order to lower their IT risk and be prepared for technological upheavals in the future, more and more organizations are switching to the managed IT services model rather of outsourcing individual IT tasks. The support provided by the service provider is described in an IT managed services brochure, which also clarifies what managed IT services are.
Many technological systems, including computers, phones, networks, and passwords, keep small-medium business (SMBs) operating and their data secure. However, many SMBs lack the time, resources, or expertise necessary to manage these systems internally.
That's where managed IT services come in.
Managed IT services advantages
The largest companies in the world prioritize IT. Because they bring in the necessary income, they can develop top-notch internal IT teams. Small-medium business (SMBs) must overcome the difficulty of identifying a remedy to close that gap and level the playing field. Smart business owner's use managed IT services when they find themselves in this situation.
What Your Business Can Gain from Help Desk and Service Desk Options
While both systems provide crucial support, successful businesses may not necessarily require both help desk and service desk offerings. A help desk can satisfy all tactical demands and offer business users prompt IT support to address critical issues for smaller businesses that do not require a more comprehensive service desk alternative. Effective help desk contact assistance results in more productive business practices that promote the expansion of business operations.
Businesses that prioritize corporate strategy and optimal IT performance benefit from having a service desk. In order to handle particular demands and difficulties, each IT process components are examined on a software and processing level. All business operations are covered by comprehensive IT support thanks to the option to embed help desk features within a service desk.
Your company's IT policies and procedures strongly depend on user expectations as well as business requirements. By contracting out your IT needs, you may obtain specialized services and advice that are suited to your company's objectives.
By offering safe IT Management Services that advance your company's operations, CTS makes your demands simpler. Contact us right now!